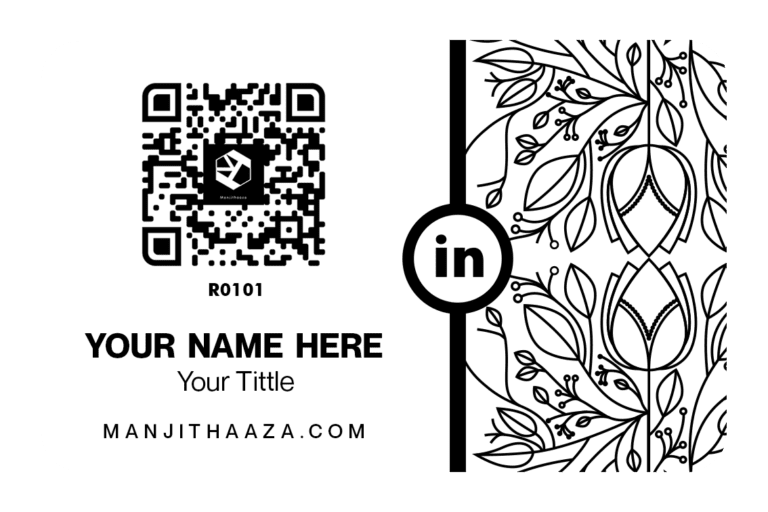 Product size – 3.375 inches wide by 2.125 (same as a credit card)
Product material – Recyclable Plastic
Suitable for – a person who wants to share their social media accounts.
Service – Card-to-card warranty for print and functionality.
Features – Durable. Waterproof. High-quality print. Contact us to request spare cards (Discounts available).
More details about our product
SOCIA CARD
Compact Size: The Manjithaaza SOCIA cards designed to be compact and lightweight, making it convenient to carry in your wallet, pocket, or cardholder. Its dimensions are optimized to fit standard business card slots and compartments effortlessly.
High-Quality Material: Crafted from premium materials, our NFC business card ensures durability and longevity. The card is made from high-quality plastic or a combination of materials that offer resistance to wear and tear, ensuring that it withstands everyday use.
Smooth Finish: Manjithaaza SOCIA cards features a smooth finish, enhancing its professional appeal. The sleek and polished surface adds a touch of elegance, making a positive impression when exchanging contact information.
NFC Technology: The embedded Near Field Communication (NFC) chip in the card enables wireless communication and contactless data transfer. This technology allows for quick and effortless sharing of your contact information by simply tapping the card on an NFC-enabled device.
QR Code Integration: In addition to NFC, the Manjithaaza SOCIA card includes a scannable QR code. This feature provides an alternative method for sharing your contact details with individuals who may not have NFC-enabled devices. By scanning the QR code, recipients can instantly access your vCard and save your information on their devices.
Durability: The Manjithaaza SOCIA cards designed to be durable and resistant to daily wear and tear. Its construction ensures that the card remains in optimal condition even after repeated use, protecting your valuable contact information.
Stylish Design: The fully black and white print design of the Manjithaaza SOCIA card exudes a sense of professionalism and sophistication. The minimalistic yet eye-catching design elements, combined with the prominent Manjithaaza branding on the back, add a touch of elegance to your professional image.
Environmentally Sustainable: By choosing the Manjithaaza SOCIA cards, you contribute to sustainable business practices. The card eliminates the need for traditional paper business cards, reducing paper waste and promoting eco-friendly networking solutions, most importantly card is made of Recyclable plastic.
 User-Friendly: The NFC technology integrated into the business card ensures a user-friendly experience. The contact sharing process is intuitive and straightforward, requiring no additional software or complicated setup.
Elevate your professional networking experience with the exceptional features of the Manjithaaza Smart Business Card. Experience convenience, durability, and style while effortlessly sharing your contact information with colleagues, clients, and potential partners.
Make your life extra smart
Empower individuals and organizations with cutting-edge technology to stay connected, organized, and productive in today's fast-paced digital world.
© Copyright 2023  Created by MANJITHAAZA DEVELOPMENT TEAM™. All right reserved.